Computers are a part of everyday professional life in the 21st century, meaning that you can be at a severe disadvantage in the job-hunting world if you do not really know how to use a computer or laptop. Furthermore, computer technicians, who can program and fix computers, are always sought-after by companies that need computers to function properly. If you do not know your way around a computer, you really should consider taking one of our computer classes.
What Exactly do We Offer?
We know that everyone has different computer skills, so we have a range of different classes depending on what skills you have. If you have no basic knowledge, we have a Beginners' Class for you. If you already know the basics but want to learn a bit more, then our Standard Class is probably what you are looking for. However, if you already know quite a lot about computers, but want to increase your knowledge even more, our Advanced Course is just for you.
We also have lessons that are completely dedicated to programming and web design.
In short, no matter what it is that you are looking to learn, we will be able to teach you.
We Provide Nothing but the Best
We value all of our students and understand that you are spending your hard-earned money to improve your computer skills. Therefore, we have stocked our classrooms with some of the best computers on the market. We think that there is nothing worse than signing up to a course, no matter what type of course it is, and having to sit there and try to learn using outdated equipment.
Furthermore, we make sure that every single one of our computer teachers are extremely passionate about passing their knowledge on to others. If someone is knowledgeable about computers but do not have the teaching bug, then we definitely won't hire them at our school.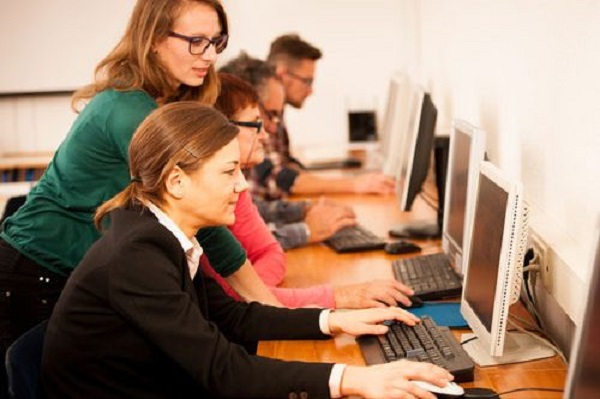 To add to this, we are fully aware about how difficult it can be for some to get their head around all the technological terms that exist in the computing world, so we also make sure that all of our teachers are extremely easy to talk to. So, if you ever have any issues, no matter what it is, you should feel free to speak to your teacher about it. They will be more than happy sit down with you and walk you through your problems.
If you would like to take a course with us but are not close to where we are based, then do not worry as we also have a wide range of great online courses available. If you choose to do one of our online courses, then you will have access to live chats with your tutor whenever you need to speak to them.
The Main Benefit of Completing a Course with Us
Once you have completed one of our courses, you can mention on your CV that you have successfully completed computer training. Feel free to name drop us as we are well respected in the computing world.
Putting this type of information on your CV can get you an interview at the expense of someone who has no idea how to use a computer.